Martin Bellamy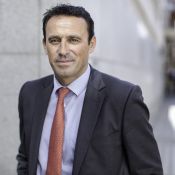 Group Chairman & Chief Executive, Salamanca Group
Global Superyacht Forum 2013

Martin Bellamy founded Salamanca Group in 2002. As Chairman and CEO he oversees and guides all areas of the Group's strategic growth and business activities worldwide and leads many of the Group's transactions. In addition to his position on the board of Salamanca Group Holdings in Cyprus and Salamanca Capital in the UK, Martin sits on the boards of a number of subsidiary companies. Before founding Salamanca Group, Martin was an Executive Director at Williams Lea Group and an Associate Director at WPP and served 10 years as an Officer in the British Army. Martin has an MBA from the University of Reading and is a Fellow of the Royal Geographical Society. In 1997, Martin rowed across the Atlantic Ocean in a boat named Salamanca.
About the event
Click here to find out more about the Global Superyacht Forum.
Why Attend?
Click here to find out more about the benefits of attending Global Superyacht Forum.
Partnership Brochure
Click here to view the partnership brochure for this year's Global Superyacht Forum.
Testimonials
Click here to see reviews of the last edition.