Paolo Moretti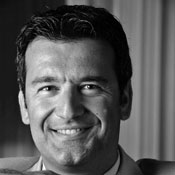 Yachting Business Area Manager, RINA S.p.A.
Global Superyacht Forum 2011
Superyacht Design Summit 2011: Regulating Design
Italian Superyacht Forum 2010
Global Superyacht Forum 2009
Global Superyacht Forum 2008
Global Superyacht Forum 2007
Paolo Moretti holds the current position of Business Manager Yachting within RINA Services S.p.A..

He is responsible for the business development activities relevant to pleasure vessels.
Born in 1971, graduated in Naval Architecture and Marine Engineering from the University of Genova, he joined RINA S.p.A. in 1997, within the Classification Department
Between 1999 and 2001 he worked in South Korea, as site manager, mainly assigned to the activity of supervision during construction of oil and chemical tankers.
Project manager for cruise-ships built in Italy and France, between 2001 and 2003.
From 2003 and 2006 he managed supervision during construction of LPG carriers, surveys on board existing vessels and ISM/ISPS auditing, with the title of Senior Surveyor and the position of Deputy Manager in the Livorno Branch Office.
Head of the Pleasure Craft Product Line from 2006 to 2009, he has been in charge of all the operational and technical activities relevant to yachts and recreational crafts.

About the event
Click here to find out more about the Global Superyacht Forum.
Why Attend?
Click here to find out more about the benefits of attending Global Superyacht Forum.
Partnership Brochure
Click here to view the partnership brochure for this year's Global Superyacht Forum.
Testimonials
Click here to see reviews of the last edition.